1418 Chinese Map of the World
The moment I saw the recently discovered Chinese map of the world purporting to be a copy of one from 1418, I knew that it is not what it is claimed to be. It may very well have actually been printed in 1763, but I doubt very much the depictions of the Americas are from the early 15th century as the text on the map claims.
The two details that immediately jumped out to me were, one, the depiction of what appears to be California as an island, and two, the area of the Arctic with what looks like a land mass separated by great ocean streams.
The earliest maps of California from the 16th century depict it correctly—as a penninsula. It wasn't until the early 17th century that it started to be shown as an island. A recent article in The Economist about this map isn't very clear on this particular point, seeming to imply in fact that the error is a point in favor of its authenticity. The idea that California was actually an island was based on Antonio de la Ascension's journal of the 1602 voyage of Sebastian Vizcaino. The first time it appeared as an island was on the title page of Antonio de Herrera's Descripcion de las Indias Occidentales (1622).
Notice here on Abraham Ortelius', Americæ Sive Novi Orbis (1587), that California is shown correctly: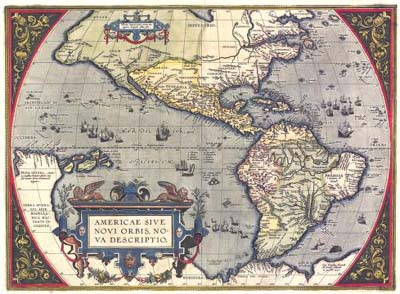 But by the 1630s many of the great Dutch and English map makers began to incorporate the error first shown by de Herrera. Here is an example from John Speed's Atlas based on Abraham Goos, America (1626)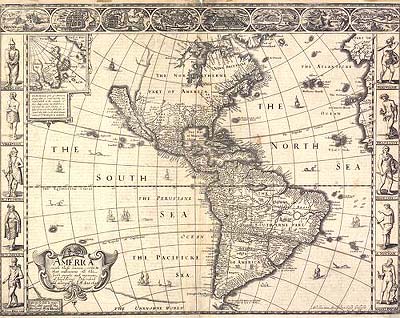 The map's depiction of the Arctic also bears an interesting resemblance to Gerhard Mercator's maps showing a northern land with great ocean streams emerging from the pole. Mercator had incorporated mythologies of an open polar sea with a great black rock at the pole itself. For example, Mercator, Septentrionalium Terrarum descriptio (1595)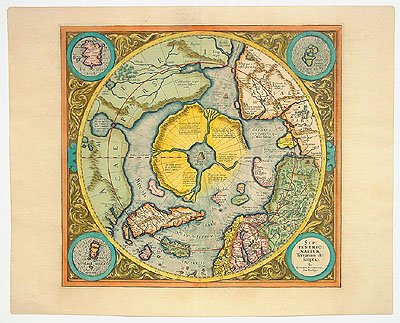 I believe these details show that the Chinese map has actually incorporated the same errors that are depicted on European maps of the 17th century.