Minor Threat
Here's another blast from the past. Below is a flyer for a show featuring Minor Threat and SS Decontrol that took place at the VFW Hall in Cambridge, Mass on March 4th, 1983. The original is 17 by 11 inches and it's starting to show its age. I can't really believe I still had the thing after 22 years. That's older than I was at the show!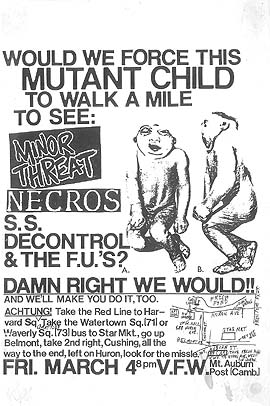 This is a review of the show from Forced Exposure #6, which was the big zine at the time in Boston (all typos in the original):
Meatmen were the surpise opening guest and of course featured a new line-up since Tesco has moved to D.C. and Rich as…um, moved on to greener pastures…Bert and Rich from Double O supplied the heavy backing while Lyle Pressler added the six-string sonics, with the end result being the best line-up yet from what has been a rather unstable assemblage…blistering cover of the old, forgotten Pagan's classic, "Whats this Shit Called Love" began the set splendidly, with another cover, "Dance to the Music" and a new one, "You're Rich" being equally memorable…this set, along with the Touch & Go benefit 2 days later were to have been the final Meatmen shows…I know I've said that before, but this time it's for real…Necros, F.U.'S, and Minor Threat all played competent, though ultimately unexceptional sets… the main reason that none of these bands failed to truely inspire me wasn't so much due to any fault on their own part, but more simply, because SSD were at an unreachable apex…the karma was flowing, and this was the sound of a great band at it's most magnificient… "now, wait a minute", some of you will most certainly argue, "the electric power went out on them during their 2nd song, they ended up standing around aimlessly on stage for what seemed like an eternity waiting for power to be fixed, and in the end, only played 6 songs in over an hour"…all of which is true, but oh, what a six songs they were…the new unrecorded, "How We Rock" was a 5½ minute epic of swirling, transfixing mayhem…a masterful opening and not a second too long as far as I'm concerned…staggering renderition of "Walking in the Sand" followed—don't laugh till you've heard it, its amazing…yeah, so there were only 6 songs performed, but quality's the only thing that matters, gang, and SSD on this night exemplifyed live music at it's most transcendental, unparalled summit…
Both Minor Threat and SS Decontrol have passed into near-legendary status by now, but SSD were the home-town heroes as can be seen from the review.
SS Decontrol were amazing there's no doubt about that. I was at another show where they opened for the Angry Samoans at the old Channel club. They hauled out a roasted pig's head for their song "Police Beat" and started throwing chunks of it out into the crowd. All hell broke loose. But I suppose you had to be there to appreciate it…