Dropkick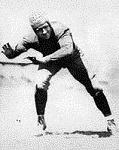 A
dropkick is "a kick by a kicker who drops the ball and kicks it as, or immediately after, it touches the ground." Dropkicks were common in the old NFL, but since the ball has been made more oblong they are never seen any more; in fact, the last drop kick occured over 60 years ago.
From a 2000 article in Coffin Corner, the official magazine of the Professional Football Researchers Association, by Rick Gonsalves:
Earl "Dutch" Clark was the last player to drop kick a field goal in the NFL in 1937. He connected on a 9-yarder for Detroit against the Chicago Cardinals on September 19, 1937.

Dick Tuckey of the Cleveland Rams did drop kick 2 PATs against the Chicago Bears on October 23, 1938. On November 13 during that same season, Brooklyn's Ralph Kercheval drop kicked an extra point against the Philadelphia Eagles.

Ray "Scooter" McLean of the Chicago Bears drop kicked an extra point against the New York Giants in the fourth quarter of the NFL Championship game on December 21, 1941.
That site also contains this great compendium on all the known, successful 50-yard dropkicks in NFL history. I really appreciate that fetishistic level of detail.
Originally, the dropkick could be attempted from any point on the field, even beyond the line of scrimmage. Unfortunately, this rule was changed in 1991—as alluded to in this Sports Illustrated article about Doug Flutie from 1998 (containing his thoughts on the dropkick). What harm was this rule? It's too bad we'll never again be able to see the spectacle of a desperation dropkick in the open field to win a game.
Update! (Jan. 1, 2006): Holy Cow! Doug Flutie just converted the first dropkick in over 60 years!
On January 1st, 2006, with 6:15 left in the 4th quarter and the score, Miami 25 - New England 19 after a 9-yard touchdown pass from Matt Cassel, Flutie came in and dropkicked the extra point to make it 25-20. This is the first dropkick in the NFL since 1941 and the first during the regular season since 1938.
Update (Nov. 25, 2010)
: Dallas Cowboy's punter Matt McBriar performed an illegal kick of a fumbled ball in an attempt to recover from a botched punt attempt. While he did kick the ball after it bounced off the ground, it wasn't the first bounce as stipulated by the rule (see above) and so was not technically a drop kick; it was simply an illegal kick. Even if by some miracle the ball had carried through the uprights, it would not have scored 3 points.
There still hasn't been a dropkick for a field goal since 1937.